Water's Edge Resort – Where Memories Are Made
About Water's Edge Resort
Welcome to Water's Edge Resort on beautiful Farm Island Lake. We are located just 7 miles south of Aitkin, Minnesota and approximately 2 hours north-east of the Twin Cities.
Water's Edge is a family friendly fishing and camping resort. Our philosophy has always been to provide our guests, and their families, comfortable accommodations in a relaxed easy-going atmosphere.
From the moment you enter our resort you will truly discover a charming, incredibly comfortable place to call home while on vacation with us. We offer swimming, boating, fishing, and breathtaking sunsets as part of the regular activities that you can partake in daily. At sundown, build a warm and inviting fire in the fire pit, barbecue the day's catch on the grill, or simply admire the marvelous view of our remarkable lake.
Farm Island Lake is known for its magnificent fishing. The lake is home to bluegill, walleye, and pike, to name a few. This pristine lake covers over 2,000 acres, has miles of shoreline, and its depth is over 55′ at its deepest point. While here, you will enjoy dazzling sunsets, clean fresh air, and a sparkling blue lake with endless skies. At the end of your stay, you will truly be delighted that you chose Water's Edge Resort. If there is anything we can do to make your stay with us even better please let us know in advance, and we will do everything we can to help you with your request.
We promise to do everything we can to help make your vacation not just another camping and fishing trip, but an experience that you will want to relive again and again for years to come.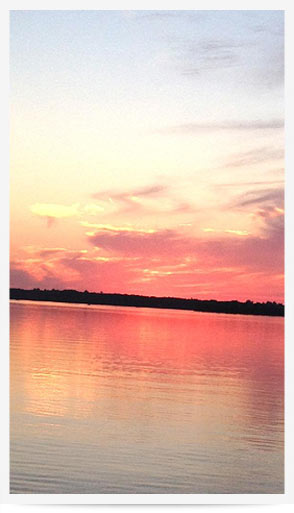 Farm Island Lake is a hard water lake with good clarity (3.5-3.7 feet). The lake itself is approximately 2054 acres and has a maximum depth of 56 feet. The fish in Farm Island Lake consist mostly of walleye, northern pike, bluegill, rock and large-mouth bass. The lake also has some Yellow Perch, Sunfish, and Pumpkinseed. The lake has been stocked with walleye for the past ten years.
For the fishermen that love catching the Feisty Panfish, Farm Island has abundant populations of black crappie and bluegill. The average size of these fish is around 8 inches but they can be as large as 11 inches. Anglers looking for large mouth and rock bass will find a good population of fish with a wide range of sizes available. Water's Edge Resort has a fully equipped fish cleaning station to clean your catch of the day.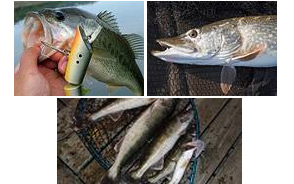 Whether you arrive by car, boat, or plane, you are sure to find its pristine waters and picturesque surroundings, this destination promises an unforgettable experience.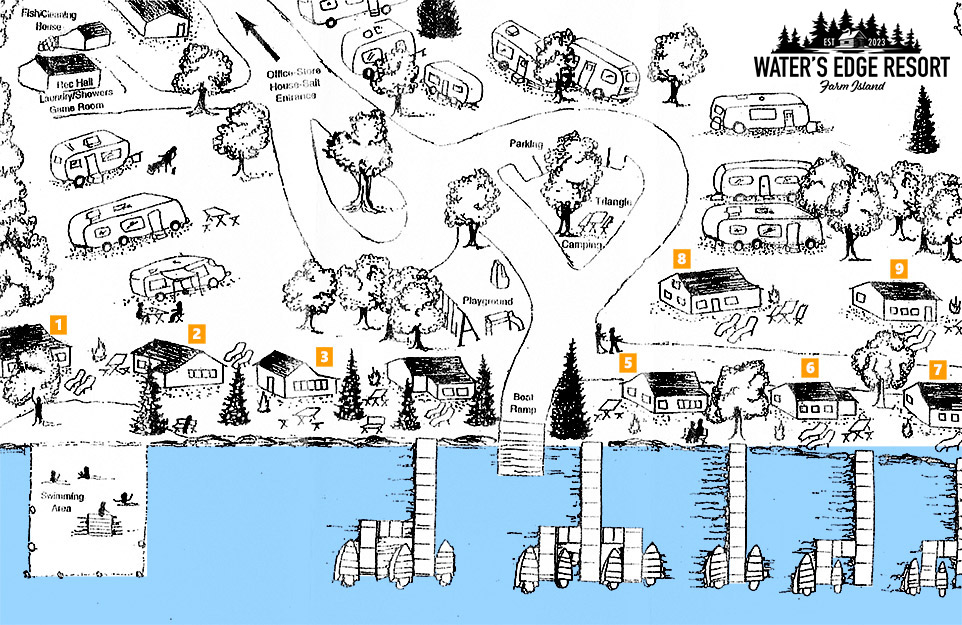 Do you have any questions about our cabins or require assistance with making a reservation?
Our team is here to help you with any queries you may have. Please feel free to reach out to us for any assistance you require.